Queen City Century Route Options
The Queen City Course is an amazing, beautiful route on the low-traffic roads through the countryside north of Springfield.
You will enjoy your visit to Strafford, Fair Grove, Ebenezer, and Pleasant View in beautiful Greene County.
A highlight of the Century Route is crossing of McDaniel Lake–a view of the lake you can't get by car!
Highlights of the route:
Tour of Springfield Route 66 highlights, to celebrate the Ribbon Cutting for U.S. Bicycle  Route 66 in Missouri ride weekend
Improved Rest Stops
Zoomable Route Master Map (all routes except 21 mile guided tour; final version)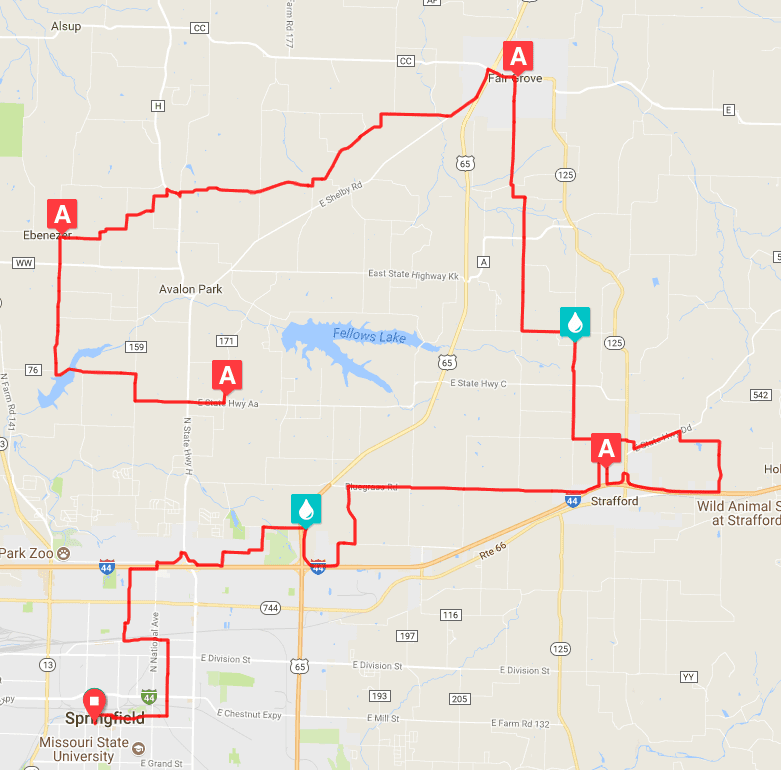 Packet Pickup
Friday, June 15th – details TBA

Registration opens
Saturday, June 15th, 6:00am
Missouri Spirits
507 W Walnut, Springfield

Route – Start Time
62, 84, 100 Miles: 7:00am
32, 50 Mile: 8:00am
10, 16 Mile: 9:30am
21 Mile No-Drop Guided Tour of Springfield: 9:35am

Lunch: 11:00am-4:30pm
See important notes about start times and course closing times on the Venue & Course Page
Note: Start times given are for the mass start of each group. Riders are welcome to start with an earlier group, if desired to work around heat or weather.
However, riders who leave early for short routes may have a wait at the finish line before lunch is served (11:00am).
Devil's Gates
Riders wishing to proceed onto longer routes must depart these SAG Stops by the given time on the outward-bound rides:
Fair Grove: 10:00am (Century & 89-mile routes)
Ebeneezer: 11:00am (Century route)
Viewable, Downloadable, & Printable Routes, Maps, and Cue Sheets
We strongly recommend downloading your route in electronic format, and uploading to your favorite device before the ride.
Or, you can download and print maps and cue sheets. Even simply saving the PDF map & cue sheet to your smart phone is a great backup plan.
Whichever you prefer, all the printable and downloadable files can be found below–TCX downloads, GPX downloads, PDF cue sheet & map downloads, and live maps on the RideWithGPS website–which can be printed and exported in a variety of ways.
On ride day, we will have printed maps available. And the course will be well marked on the road (fluorescent orange "Q" with arrows).
Online Maps (RideWithGPS)
At RideWithGPS, you can view the routes using an online, interactive map, save the routes to use with the RideWithGPS app, print cue sheets, and download in various electronic formats.
Most important, you can easily check your route's altitude profile, the number of climbs, and grade on the RideWithGPS maps. Know your route!
Use the Online Map links above to download or print cue sheets and maps for the route, and to export the route to in electronic formats for GPS devices or your smart phone.
10, 20, 37, 53, 67, 89, and 100 mile routes will be well marked on the ground with fluorescent orange paint.
Printed maps & cue sheets will be available at registration
We strongly recommend downloading routes in electronic form prior to the ride, if at all possible.
About the routes & SAG Stops
The Queen City Century features a number of route options, from a 22-mile guided tour of Springfield's nationally recognized trail and bicycle route system, to sixteen of Springfield's flattest road miles, and 100 miles of the most scenic road routes in the Springfield area, with visits to Strafford, Fair Grove, Ebeneezer, and beautiful Lake McDaniel.
Or try the Flat Century!
You'll be well supported, with SAG Stops every 8-16 miles and roving SAG ready to help if you run into trouble.
Whatever your level of interest or fitness, you'll find a route you'll enjoy! Read on for more details . . .

Route Highlights
More fun, more Route 66 . . .
After years of work, Bicycle Route 66 in Missouri has been added to the U.S. National Bicycle Route System! Hooray!
We're celebrating during the Queen City Century by incorporating a stretch of Bicycle Route 66 into our route–a stretch that includes some of the highlights of Route 66 in Springfield: The Kentwood Arms Motor Hotel (birthplace of Route 66), Abou Ben Adhem Shrine Mosque, Pythian Castle, and more.
Also, we moved the Strafford Rest Stop (turnaround point for the 37-mile route) to a nice, shaded city park on the near side of Route 125.
Those who brave the 100-mile route will have real restrooms and air conditioning at the Pleasant View Middle School.
Less traffic, fewer hills . . .
In developing our QCC routes, we listened to our riders and what they wanted.
The out-and-back metric Metric Century, 89-mile, and Century Routes are on lower-traffic roads with just a few less hills than the routes we used in some earlier years.
The out-and-back century, for example, has 3,800 feet of climbing–compared with 4475 in 2016. That's about 15% less climbing.
The 37-mile route is about as flat a route as the Springfield area offers–and the 50-mile route is pretty flat, too, with just a couple of moderate hills between the 37-mile turnaround point and the 54-mile turnaround point.
More discussion of the hills and relative difficulty and ease of the various routes here.
That's what most cyclists consider pretty easy, rolling hills

Flat Century Options
Want to ride one of the flattest possible Centuries in the area? Just ride the 54-mile route twice.
Want an even flatter century? Just ride the 37-mile route three times
These Flat Century options are an excellent choice for anyone working on their first Century–or if you are working to build your fitness level to be able to handle century rides with many thousands of feet of climbing and steep hills.
Both the Flat Century (2X54) and Even Flatter Century (3X37) rides will be fully supported all day long–because SAG Stops on the first section of the ride remain open until the last Century riders return late in the day. And you save more than 200 feet of climbing with the Flat Century, and even more than that with the Even Flatter Century. And more important, you avoid some of the longer and steeper climbs of the regular 100-mile route.
The 2X54 Flat Century has two pretty good (moderate) climbs on each 25-mile segment. The 3X37 Even Flatter Century is most rolling terrain without any seriously steep climbs. The regular century has a number of more difficult climbs.
More discussion of the Flat Century vs. Regular Century options here.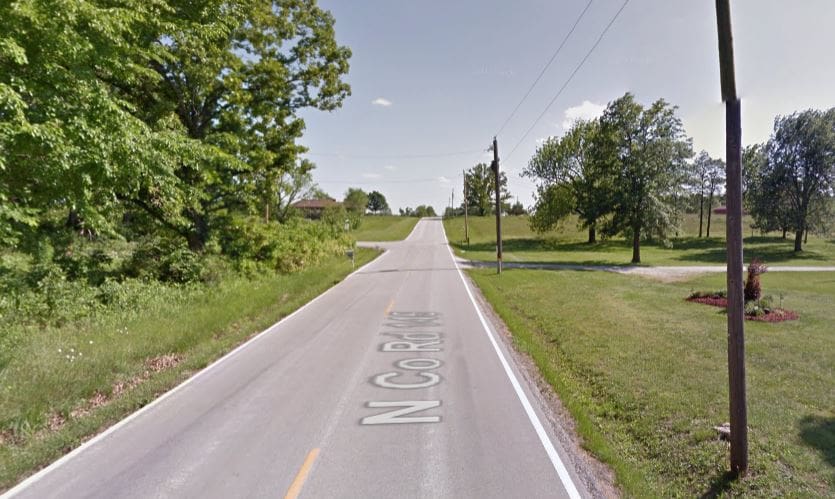 Scenic and historic features
You'll see some of the Springfield area's most scenic and beautiful roads.
The route meets two of Missouri's national bicycle routes–routes that MoBikeFed and its local and national partners work hard to maintain and improve.
We cross Bicycle Route 66 twice–once near the start as we following historic Route 66 for several blocks through the downtown area, and again when we meet the route in Strafford.
We ride on a piece of the historic TransAmerica Trail–the cross-country bicycle route that launched the Adventure Cycling Association and began the work to create a national bicycle touring route system in the U.S. in 1976. The TransAmerica Bicycle Trail is now officially designated in Missouri as U.S. Bicycle Route 76. We ride our section of USBR 76 on Old Mill Road in Fair Grove.
SAG Stops and support
The route features four rest stops where you can rest, relax, and enjoy snacks, drinks, and restrooms. It also includes two water stops, with water and limited snacks available.
The routes make double-use of most SAG stops, so that we have SAG stops every 8-16 miles along the entire course.
Note that most stops are fully stocked SAGs with volunteers, plenty of food, water, Gatorade powder, and restrooms. A few stops–marked on your maps a "Water Stops"–are more basic with water, a few snacks on hand, and no restrooms available. Check your map for details.
We will have roving SAG drivers on the course at all times. If you have mechanical trouble or need a pick-up for any reason, just call.
Whether you enjoy a short flat, ride or long road ride on beautiful country roads, Queen City Century has it for you!
Many thanks to local riders who have spent many hours evaluating potential QCC routes and giving feedback and suggestions.